A Guide to Love, God, Prayer, Meditation, & Peace Within You—Right Now
Get Inspired
Books
DVD/CD Courses
Get Involved
About DavidPaul Doyle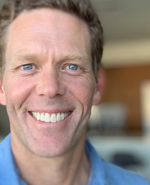 In 1989 at the age of 21, DavidPaul Doyle knew the direction he had plotted for his life. From the 8th grade, his passion had focused on his becoming a fighter pilot, an astronaut, and eventually running for the United States Senate. Having studied in Russia and worked in the American Embassy in Moscow, and with his third year at the Air Force Academy only two weeks away, his life's goals were unexpectedly turned upside down by an extraordinary event. While riding in a car, listening to his favorite sax musician, he was suddenly enveloped by a powerful wave of overwhelming love. It was unlike anything he'd ever experienced nor had even known existed. Out of this incredible infusion of love, a question formed in his mind: "If I was an old man on my deathbed, what would I have done in my life to have had absolutely no regrets?"
The question was answered as a bright light materialized in his mind. Rays from the light reached out to touch other lights, and a vivid vision of his future and true purpose became clear. It predicted he would write books that would impact people's lives throughout the world.
The thought of becoming an author had never occurred to him. Though he had no clear knowledge what form this prediction would take nor what sort of books these might be, DavidPaul was transformed by this unexplained phenomenon. He turned his back on his dreams of becoming a pilot and made an instant decision to leave the Air Force Academy. Finishing his education at UC Berkeley, he threw himself into the single-minded aspiration of understanding and experiencing the source of this profound love and truth which had so changed his life.
After years of devoted study and practice, DavidPaul has dedicated his life to helping others experience and integrate their Divine Consciousness. He has traveled worldwide conducting seminars and workshops to enthusiastic crowds on how to hear God's Voice within. He is the author of three books, including 5-Steps to Hearing God's Voice: For Those on the Leading Edge of Consciousness and When God Spoke to Me.
DavidPaul is the co-founder of The Voice for Love.
Join Our Growing Community Today
Stay Connected
Testimonials
"Thank You! I am really overwhelmed by your 30-Day Course on how to hear the Voice of God! THIS is what I have been waiting for, and I'm only on Lesson 11! I now have the Inner Peace I've been seeking for the past 51 years!"
- Jan Westerhof, Holland
"I personally found your instructions on how to quiet the mind chatter and get in touch with the Voice of the Spirit to be the most helpful and transformative I've ever been given."
- Rev. Georgie Richardson, Unity Church of Salem, OR
"The Doyle's 30-Day Course on hearing God's Voice will change your life. The act of DOING these exercises, rather than listening to them, really brings the experience home. The Presence of God is now with me at all times, and I can call on this Voice throughout my day!"
- Donna Slawsky, New York