A Guide to Love, God, Prayer, Meditation, & Peace Within You—Right Now
Get Inspired
Books
DVD/CD Courses
Get Involved
Spiritual Life Coaching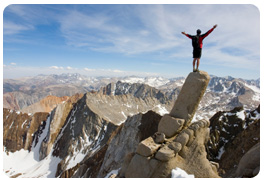 - Feel stuck?
- Need clarity with an important decision?
- Need to make a big change in your life?
- Want to develop your natural gifts?
- Need support with a life transition?
- Want help with a difficult relationship?
- Ready to feel inspired and passionate?
Experience how wonderful it can be to feel connected, on purpose, and divinely guided in everything you do in your life.
Our Approach
There is a place within each of us that contains all the wisdom of the universe. This part of our being goes by many names: Higher Self, God, Holy Spirit, Universal Mind, Cosmic Consciousness.... Regardless of what you call this Inner Voice or Presence, there is a Resource within all of us that:
Knows what is in our highest good at all times
Is the source of our inspiration, creativity, and abundance
Can dissolve our limiting beliefs, fears, and unworthiness
Can guide and lead us in practical and balanced ways
Can help us to fulfill our spiritual life purpose, as well as meet our worldly needs and goals
Can bring understanding and direction to all areas of our lives
Our goal as spiritual life coaches is to
1. Communicate the wisdom, inspiration, and insight of this Universal Source
2. Support and empower you to join with this Divine Presence within you so you have full access to your own Inner Coach for guidance, inspiration, and understanding in your life
As a spiritual life coach, he will speak from this Source, inspire from this Source, and guide from this Source. He will also guide and teach you how to access this Wisdom and Strength within yourself.
He will help you to discover what you truly desire in your heart and help you to expand your vision of what is possible. He will also actively work with you to release and heal everything that keeps you from living your heart's desire.
Why Have a Coach?
The most highly respected and successful athletes, politicians, business leaders in the world have coaches, mentors, and consultants who keep them focused and on track. A spiritual life coach is someone in your life who can clearly reflect your current state of mind, see the big picture and patterns in your life, and provide you with guidance and insight while simultaneously holding a clear vision of your success. A personal spiritual life coach will help you to release stress and anxiety as you deepen your connection with Source and develop your natural gifts and abilities.
You may want to consider having a spiritual life coach in order to:
Discover your life's purpose in the world
Be fully heard and accepted on all levels of your being
Learn to respond to the circumstances in your life differently
Let go of old patterns so you can accomplish your personal and career goals
Bring balance and wisdom to making important decisions and life plans
Bring more honesty, clarity, and compassion to your personal relationships and communication
Manifest your goals and dreams with more grace, patience, and peace
About DavidPaul Doyle
DavidPaul Doyle is the best-selling authors of The Voice for Love: Accessing Your Inner Wisdom To Fulfill Your Life's Purpose. He has conducted over 80 workshops around the United States and Canada on accessing divine guidance. With many years of experience and training as a teacher, minister, and spiritual counselor together with a wealth of life experience as a business owner, entrepreneur, and parent, DavidPaul is able to provide people with the necessary inspiration, direction, and support to help them create their best possible lives.
DavidPaul Doyle graduated from UC Berkeley with a degree in political economy and has 7 years of experience working as an engineer and manager for high-tech companies such as Netscape, America Online, and the Gartner Group. As an entrepreneur, teacher, and lecturer, DavidPaul brings a wealth of real-world experience to spiritual life coaching.
DavidPaul first became a minister 14 years ago. He is a certified massage therapist, Reiki Master, and craniosacral therapist. A student of both Eastern and Western philosophies and traditions, a longtime martial artist, and a practitioner of Marshall Rosenberg's Compassionate Communication and The Work of Byron Katie, DavidPaul brings a pragmatic balance to living in the world with an enlightened state of mind.
Spiritual life coaching sessions are available by telephone and in person in Ashland, Oregon. Appointments are made over the phone. Sessions are one hour long.
Session fees:
$100 - 1 hour
$500 - 6 weekly sessions
For more information or to schedule a life coaching session, contact us.
Join Our Growing Community Today
Stay Connected
Testimonials
"Thank You! I am really overwhelmed by your 30-Day Course on how to hear the Voice of God! THIS is what I have been waiting for, and I'm only on Lesson 11! I now have the Inner Peace I've been seeking for the past 51 years!"
- Jan Westerhof, Holland
"I personally found your instructions on how to quiet the mind chatter and get in touch with the Voice of the Spirit to be the most helpful and transformative I've ever been given."
- Rev. Georgie Richardson, Unity Church of Salem, OR
"The Doyle's 30-Day Course on hearing God's Voice will change your life. The act of DOING these exercises, rather than listening to them, really brings the experience home. The Presence of God is now with me at all times, and I can call on this Voice throughout my day!"
- Donna Slawsky, New York